Last week was about as insane as it gets in the stock market. Overall index performance was down, sure, but that's not what was monopolizing the discussion. All of our mindshare last week was centered around what was going up, not down.
And that, my friends, was GameStop. (Yes, THAT GameStop)
The stock was up north of 300% last week…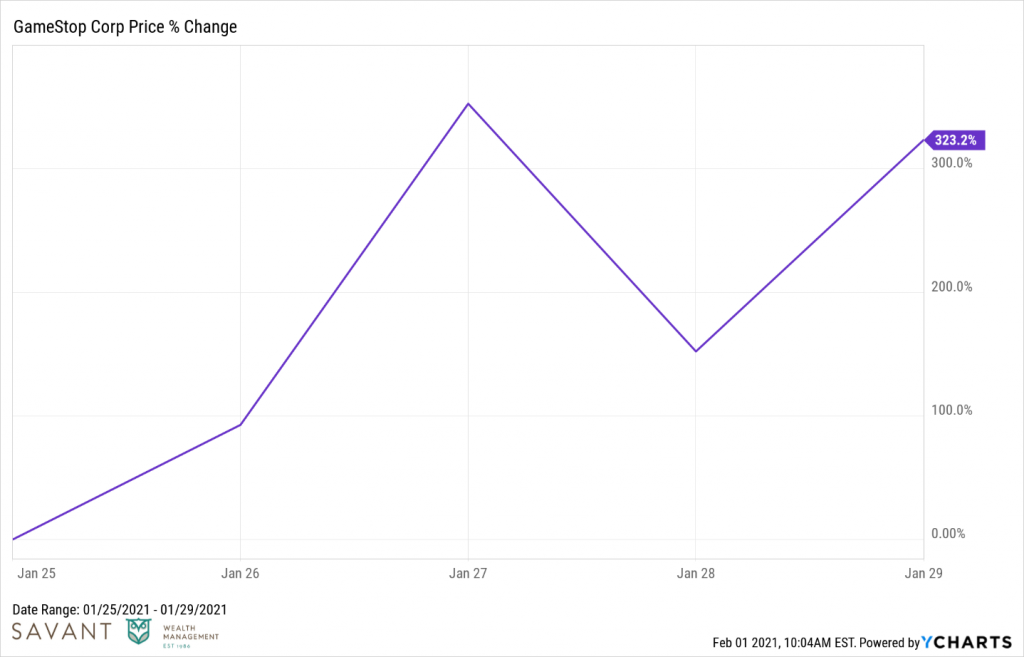 …only to drop over 30% today.
This stock went from trading below $3/share not even a year ago to reaching a high of $347/share (not a typo) just a week ago.
Times like these are akin to Christmas for FinTwit jokesters like me. I did my best to contribute to the silliness:
Ba Dum Tss!
---
The 'memestonk' era has officially entered the mainstream consciousness. What that means going forward is anyone's guess, but it sure will be fascinating to watch.
I wrote about the whole saga at length over on the Savant Wealth blog. Check out the full post:
The Week the World GameStopped (Savant Wealth Management)
I've also compiled some of the best things I've read so far related to the zeitgeist surrounding this mini-mania:
Semantic Density, Algos & Gamestop: This Time It's Different (ETF Trends)
Why It's Usually Crazier Than You Expect (Morgan Housel)
The Biggest GameStop Overreactions (A Wealth of Common Sense)
Timeless Lessons From Today's Mania (The Irrelevant Investor)
WallStreetBets Founder Reckons With Legacy Amid Stock-Market Frenzy (Wall Street Journal)
The GameStop affair is like tulip mania on steroids (The Guardian)