"We Can Rebuild Him"
"Gentlemen, we can rebuild him. We have the technology. We have the capability to make the world's first bionic man blogger. Steve Austin Phil Huber will be that man blogger." – The Six Million Dollar Man
I'll admit – I've never seen an episode of The Six Million Dollar Man. When I hear the name Steve Austin, this is the first and only person who comes to mind: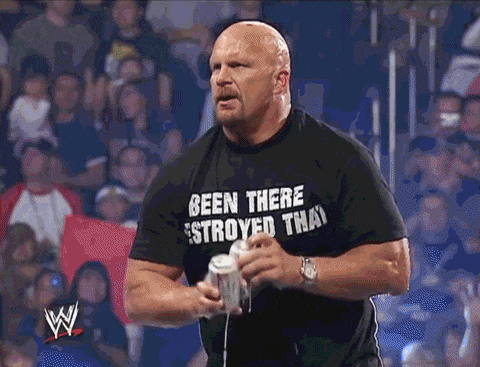 While I probably couldn't pick Lee Majors out of a lineup, I know enough about the basic plot of the show to feel comfortable enough using it as the basis for this post. With that out of the way, I have a confession to make…
I have lost my confidence as a blogger.
There, I said it.
Somewhere in the last year or two, I seemingly forgot how to blog – at least on a regular cadence. Notice I said blog, not write. If anything, I have written more in the past year than I have at any other point in my life as I toiled away on my forthcoming book, The Allocator's Edge*
But as anyone who has done both can attest, those are two completely different skills that exercise entirely unique muscles. You could argue that in learning how to write a book I seemingly unlearned how to blog.
Don't get me wrong, I have still been posting on occasion. I even introduced The Paper Trail as a recurring feature. But it does feel like I've lost that lovin' feeling (whooooaaaa that lovin' feeling) that I had not too long ago.
As much as I hate to make excuses, here are my excuses:
Writing a book: I am incredibly proud of the final product and truly believe those who read it will enjoy and learn from it. That said, writing it was like having a second full-time job. Nights, weekends, whenever there was free time. Attempting to squeeze in blog posts in those fleeting free moments I'd rather be relaxing or spending time with my family just seemed like too much of an ask.
Career changes: Merging companies is tough. Doing so in the middle of a global pandemic is tougher. Last year was an all hands on deck type of year, and with that certain routines got put on the backburner.
Being a parent: Those few hours after work and before my baby's toddler's bedtime are both precious and exhausting. Where before I may have used the late evening hours to work on a post, nowadays an adult beverage, an ice cream bar, and a TV show with my wife seems like a much better way to cap off the evening.
While I don't want to be too hard on myself, I realize that excuses are like Robinhood accounts:
Everybody has one, and they all stink.
As I stand at this fork in the road, I have two options.
The first option would be to reflect on the great opportunities and outcomes that have arisen from blogging over the past 5+ years and simply conclude: mission accomplished.
In many respects, I have gotten out of bps and pieces everything I could have imagined and then some since my first post on June 8th, 2016. I've forged some great friendships and relationships. I've built a respectable presence on social media. I've elevated my professional profile in an industry that I love. And I've checked off a bucket list item with the publication of my book.
In a world where we never seem to be content with "enough", I could just shut down the blog and move on.
The problem with that option is I that would simply miss it too much.
I would miss the creative outlet. I would miss the conversations and engagement that posts would lead to. I would miss that near-euphoric feeling of being in a flow state knowing with the utmost confidence that whatever was pouring out of my fingertips onto the keyboard had to be shared with the world.
Beyond the personal satisfaction and fulfillment the blog provides, the importance of writing and learning in public cannot be overstated as people increasingly evaluate the professionals they work with based on their online presence. Josh Brown recently summed this up perfectly, as he is wont to do:
"Good ideas and an outward projection of insight and dedication should count for a lot in the fundraising game. Are your ideas public? Are they being challenged (and successfully defended)? Are you able to change your mind, publicly, when new facts present themselves? Can you explain your ideas in a way that demonstrates both a technical understanding as well as the mastery necessary to translate complexity to the less informed? Can you be trusted? Does the enthusiasm you have for your subject matter shine through? Can the reader tell that you would be writing and expressing these thoughts regardless of whether there were an audience or not?"
I couldn't live with myself if my answer to all of those above questions was not a resounding…
So if door #1 is not an option, the only other choice is to double down, recommit to this blog, and rediscover my voice. No more excuses. No more imposter syndrome. No more living in content purgatory.
But that won't just happen overnight. I need to have a plan, and one that I can stick with. So here goes:
Accountability: Consider this post my public accountability statement. Call me out if it seems like I'm slipping again. I'm also relaunching the website in a few weeks. Same name and same URL, but a major upgrade to the back end and a nice fresh coat of paint on the front end. A decent amount of time, money and resources went into making this happen. I don't take that support lightly and I refuse to let down those who have helped me build version 2.0.
Time management: Half the battle is just showing up. Or as William Faulkner said, "I only write when inspiration strikes. Fortunately it strikes at nine every morning." I have never been good at this. In the past, I just wrote when an idea popped into my head. I need to establish a weekly routine of sitting down and writing – distraction free – regardless of whether I share it or not.
Imitation Games: Nobody wants to be a copycat, but there is nothing wrong with emulating the greats. As David Perell writes in Imitate, Then Innovate:
Ironically, the more we imitate others, the more we discover how we're different. There's a long lineage of comedians who tried to copy each other, failed, and became great themselves: Johnny Carson tried to copy Jack Benny, but failed and won six Emmy awards. Then, David Letterman tried to copy Johnny Carson, but failed and became one of America's great television hosts. Reflecting on his own influences, Conan O'Brien said: "It is our failure to become our perceived ideal that ultimately defines us and makes us unique." All of them learned that imitation reveals our identity, especially when we fall short of those we admire.
Sticking with the theme of this post, I thought it might inspire me to design what a bionic "Six Million Dollar" blogger might look like. An ideal that I could strive for. In short, they would possess:
Josh Brown's versatility and wit.
Morgan Housel's storytelling ability.
Ben Carlson's consistency.
Michael Batnick's honesty and humility.
Howard Marks' logic and common sense.
Cliff Asness' intellectual rigor (and his footnotes. My God, his footnotes.)
Corey Hoffstein's technical acumen.
Patrick O'Shaughnessy's insatiable curiosity.
David Perell's discipline and process.
Ramp Capital's memes.
Kyla Scanlon's mastery of social media and video.
Brian Portnoy's ability to translate complex topics into simple frameworks.
Bob Seawright's profound wisdom.
Packy McCormick's depth and exploration.
J.C. Paret's love of the game.
Tadas Viskanta's research curation.
Nick Maggiulli's data visualization.
Christie Hamilton's due diligence expertise and Twitter threads.
Howard Lindzon's sense of humor.
Fred Wilson's knack for brevity.
Ben Hunt and Rusty Guinn's passion and tenacity.
I'll never be Josh or Morgan or Ben or Michael or any of the legends above. I can only be me. I can only cultivate my own writing style, learning from and imitating the best investment writers and thinkers in the game today and doing my best to echo the traits that make them special.
I may not have $6 million to spend, but I can damn sure can put in the time and effort towards building better habits, rediscovering my blogging voice, and reminding myself why I embarked on this journey in the first place.
Thanks for sticking with me along the way.
Get on the List!
Sign up to receive the latest insights from Phil Huber directly to your inbox.